CASA Equity & Social Justice Book Group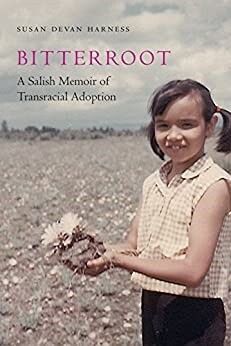 ZOOMING ALL CASAS!
CASA Equity and Social Justice Book Group
Please join the next meeting of the CASA ESJ Book Group for a mixed media approach, especially considering the pending Supreme Court case of Brackeen v. Haaland set for oral argument on November 9.
*** Reading the book is not required to join us and participants are encouraged to review other suggested media relevant to the topic.
Wednesday, December 7, 2022
12:15 – 1:30 pm
Via Zoom (see link below)
Questions? Contact facilitator Jennie Cowan (jcowan@kingcounty.gov).
***1.5 hours of ESJ continuing education credit for attendance
BOOK FOR DECEMBER:
Bitterroot: A Salish Memoir of Transracial Adoption (American Indian Lives)
By Susan Devan Harness
Lecturer, Oral Historian, and Author Susan Devan Harness describes her experience to overcome being an American Indian child adopted by a white couple. This book traces her journey to understand why she was subjected to racist remarks and why she was an outsider looking in. The author's journey helped her understand the often puzzling questions of stereotypes, a sense of non-belonging, the meaning of family, and the importance of forgiveness.
OTHER MIXED MEDIA:
1. Daughter of a Lost Bird - Film
The Office of Tribal Relations has paid for access to the film, Daughter of a Lost Bird available throughout the month of November.
This film will only be accessible between November 1-30, 2022 using the following password: lostbird922
"Lost birds" – a term for Native children adopted out of their tribal communities. Right after the Indian Child Welfare Act of 1978 became the law of the land, Kendra Mylnechuk Potter was adopted into a white family and raised with no knowledge of her Native parentage. This beautiful and intimate film follows Kendra on her journey to find her birth mother April, also a Native adoptee, and return to her Lummi homelands in Washington State. With a sensitive yet unflinching lens, director Brooke Swaney (Blackfeet/Salish) documents Kendra and April as they connect with relatives and navigate what it means to be Native, and to belong to a tribe from the outside looking in. Along the way, Kendra uncovers generations of emotional and spiritual beauty and pain and comes to the startling realization that she is a living legacy of U. S. assimilationist policy. By sharing a deeply personal experience of inherited cultural trauma, the film opens the door to broader and more complicated conversations about the erasure of Native culture and questions of identity surrounding adoption.
2. Brackeen v. Haaland –US Supreme Court Oral Argument on November 9, 2022
Brackeen v. Haaland - SCOTUSblog
Argument Audio (supremecourt.gov) (argument will be posted on November 9)
Issues: (1) Whether the Indian Child Welfare Act of 1978's placement preferences — which disfavor non-Indian adoptive families in child-placement proceedings involving an "Indian child" and thereby disadvantage those children — discriminate on the basis of race in violation of the U.S. Constitution; and (2) whether ICWA's placement preferences exceed Congress's Article I authority by invading the arena of child placement — the "virtually exclusive province of the States," as stated in Sosna v. Iowa — and otherwise commandeering state courts and state agencies to carry out a federal child-placement program.
3. This Land – Podcast by Cherokee Citizen Rebecca Nagle on another case similar to Brackeen: 3. Grandma Versus The Foster Parents | Crooked Media
Description: The award-winning documentary podcast This Land hosted by Rebecca Nagle reports on how the far right is using Native children to attack American Indian tribes and advance a conservative agenda. Rebecca Nagle is an American activist, writer and public speaker. She is a citizen of the Cherokee Nation.
TOPICS FOR DISCUSSION:
• The importance of the adoptive parents' role in supporting the child's culture and biological family connections
• Social and cultural bias and a new perspective on a familiar experience, and spark meaningful conversations about this historical trauma, generational cycles due to systemic racism
• How can CASA best support children of color in their adoptive home to provide resources to the family in answering tough questions from the children and from others
• How might you as a CASA volunteer support a child and family under these stressful circumstances? What would benefit your effectiveness as an advocate in your case? Case discussion: do you have a case with similar themes
ZOOM LINK:
Topic: CASA EQUITY AND SOCIAL JUSTICE BOOK GROUP
Time: December 7, 2022, 12:15 PM Pacific Time (US and Canada)
Join Zoom Meeting
https://kingcounty.zoom.us/j/85691682232
Meeting ID: 856 9168 2232
Passcode: CASA
One tap mobile
+12532158782,,85691682232#,,,,*419071# US (Tacoma)
+13462487799,,85691682232#,,,,*419071# US (Houston)
Dial by your location
+1 253 215 8782 US (Tacoma)
+1 346 248 7799 US (Houston)
+1 669 444 9171 US
+1 669 900 6833 US (San Jose)
+1 719 359 4580 US
+1 301 715 8592 US (Washington DC)
+1 309 205 3325 US
+1 312 626 6799 US (Chicago)
+1 360 209 5623 US
+1 386 347 5053 US
+1 564 217 2000 US
+1 646 931 3860 US
+1 929 205 6099 US (New York)
833 548 0276 US Toll-free
833 548 0282 US Toll-free
877 853 5247 US Toll-free
888 788 0099 US Toll-free
Meeting ID: 856 9168 2232
Passcode: 419071
Find your local number: https://kingcounty.zoom.us/u/kJEpUgfgp
Join by SIP
85691682232@zoomcrc.com
Join by H.323
162.255.37.11 (US West)
162.255.36.11 (US East)
Meeting ID: 856 9168 2232
Passcode: 419071
Join by Skype for Business
https://kingcounty.zoom.us/skype/85691682232